HOME DELIVERY, WITH STYLE
Delight your clients with our Premium, Safe, Sustainable last mile delivery
BRAND CONCIERGE
Our Personal Style Riders lead your Brand Experience to the Client's door. Anytime, anywhere.
Every day (7/7) and night (10 PM)
Premium image
Waiting 15 mins at the doorstep
PREMIUM SERVICES
Enhance your customers' shopping experience. Fulfill customers' needs and enable new shopping habits.
Wardrobe: safely try at home
After Sales at home
Instant returns
SAFETY
Know exactly who is picking-up and delivering to the Client's doorstep.
Live tracking
Chat/Call your Style Rider
Full insurance
COVID FREE
We care for our community and we preserve it with safe delivery services.
Contactless delivery
SPD for the Style Riders
Product Sanitation
SUSTAINABILITY
100% of our deliveries are operated with public mobility and green vehicles.
No pollution, zero noise
No traffic congestion
No extra packaging
BUSINESS INSIGHTS
Transform your logistics with our Business Intelligence Dashboard.
Machine Learning
Smart Forecasting
Geo Marketing
STORES
Power your stores with 1h, Same day, Next Day, Weekend and Night premium deliveries.
Tender allows Merchants to enhance innovative services such as Whatsapp sales, Wardrobe, Instant returns, Real-time store to store replenishment
or In-store concierge.
BRANDS.COM
Boost your sales with our white glove service and let your Clients enjoy instant gratification with 1h, Same day, Next Day, Weekend and Night premium deliveries.
Leverage your physical store to speed-up the e-commerce deliveries, providing a seamless luxury experience, online to offline.
SERVICES
We enable Boutiques and Brands.com to deliver on demand, with style.
SHIP FROM STORE
The sooner, the better. Tender's e-commerce API transform your stores into a urban warehouse network to offer fast, on demand deliveries to your customers - from 1h to same day.
We deliver anytime, anywhere.
SHIP FROM HUB
We collect your e-commerce orders and we deliver them on demand, with a green touch. 100% of our deliveries are made by carbon-neutral vehicles such as electric bikes, kickscooters, e-scooters and public mobility.
STORE TO STORE
Restock your retail network in real-time with express deliveries. Missing sizes or products can result in loss of sales. We quickly transfer your inventory where you need it most.
BUSINESS COLLECTION
Focus on your core business. Trigger a single or multi-pickup delivery through our app. Tender will immediately transfer your parcels to your postal carrier or courier and get them shipped.
CUSTOMER RETURN
Improve the Customer Experience with Instant Returns. Tender allows your Client to immediately return goods or schedule a return slot that perfectly fits his/her agenda.
Co2 NEUTRAL CERTIFIED FLEET
Free your city from the externalities of urban delivery
with micro mobility, intermodality, public and sharing services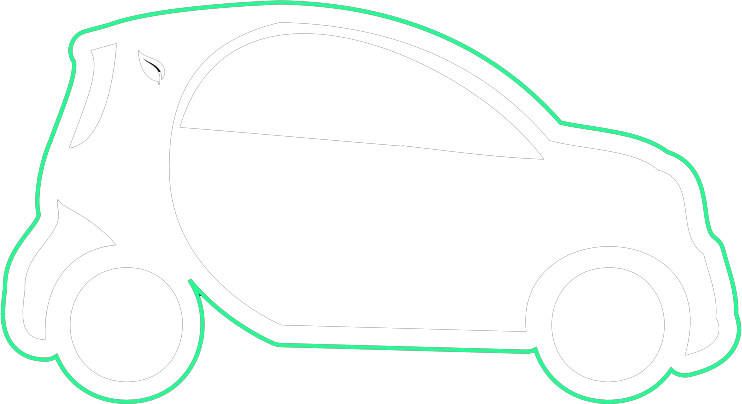 PLUG & PLAY TECHNOLOGY
Integrate our API into your checkout to offer 1h, same day, next day,
weekend and night premium city deliveries to your clients.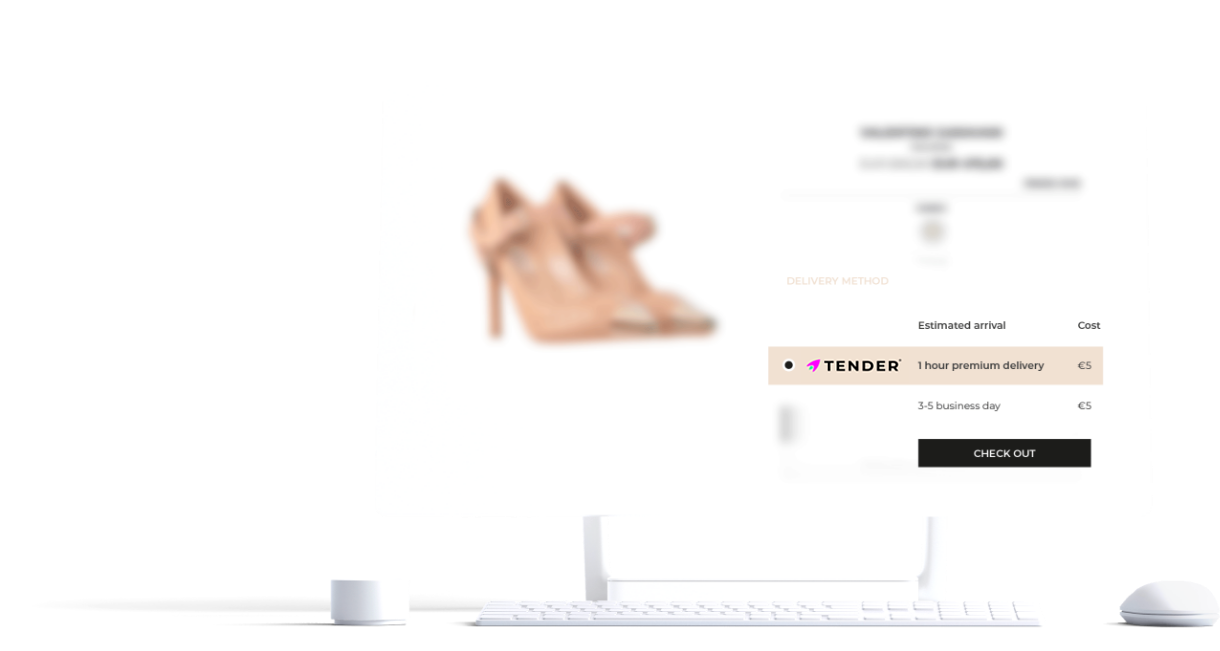 Launch instant or scheduled deliveries from our SaaS Delivery Platform – no IT integration needed.
Collect precious insights with our Business Intelligence: peak days/hours, top city areas, preferred services.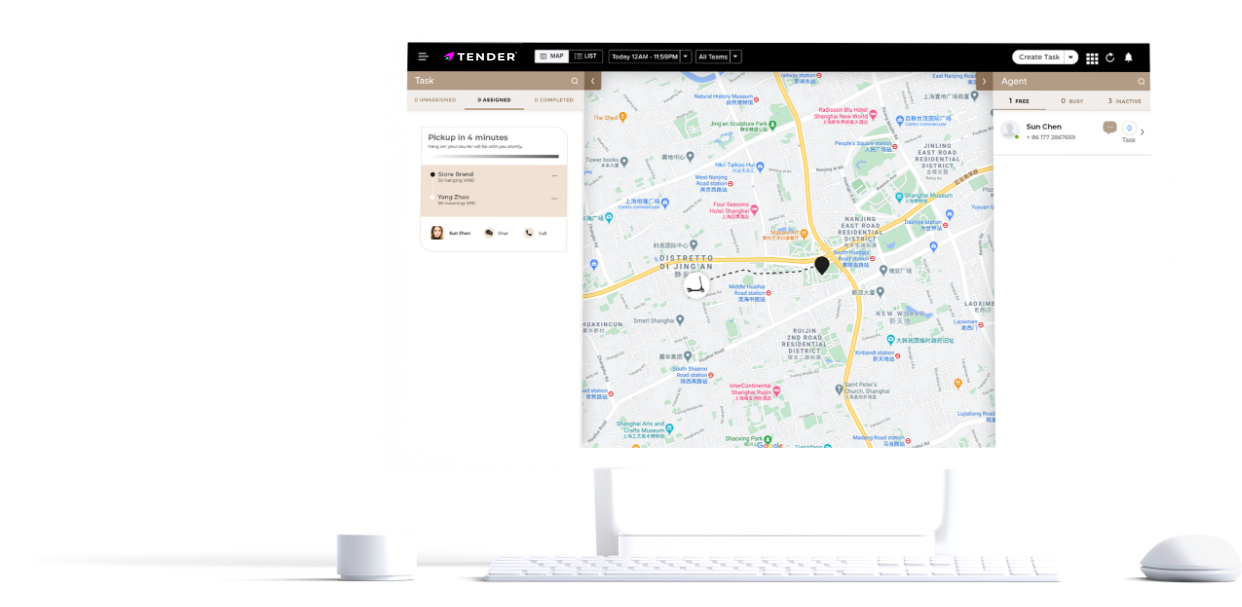 Book your Tender from wherever, in 1 click. Track it in real time, from pick up to drop off,
and share it with your Client through an automated SMS service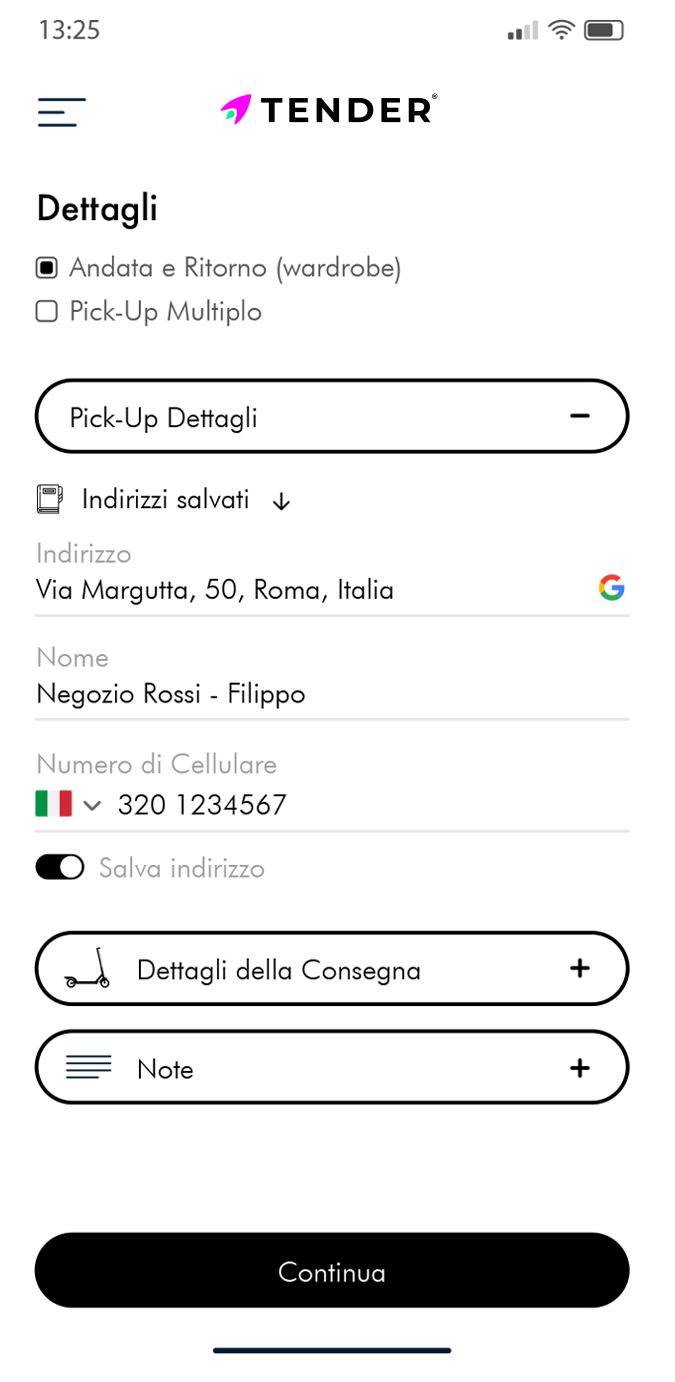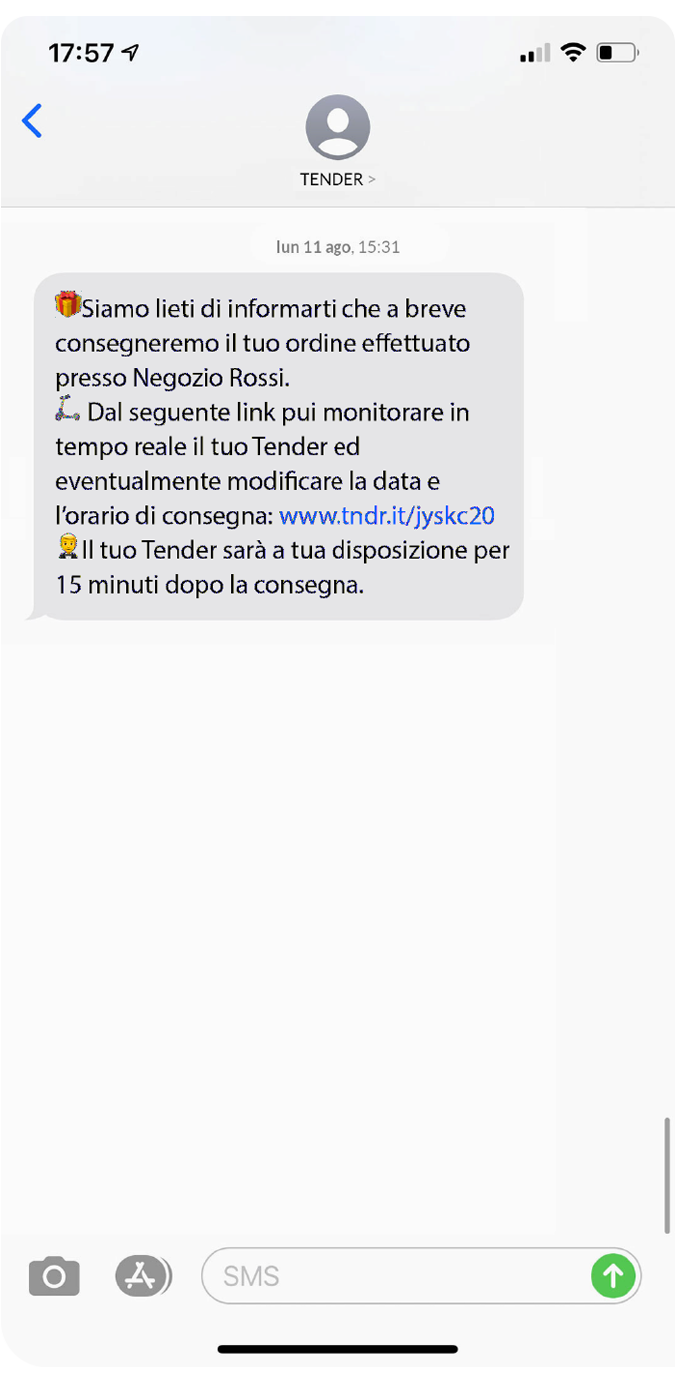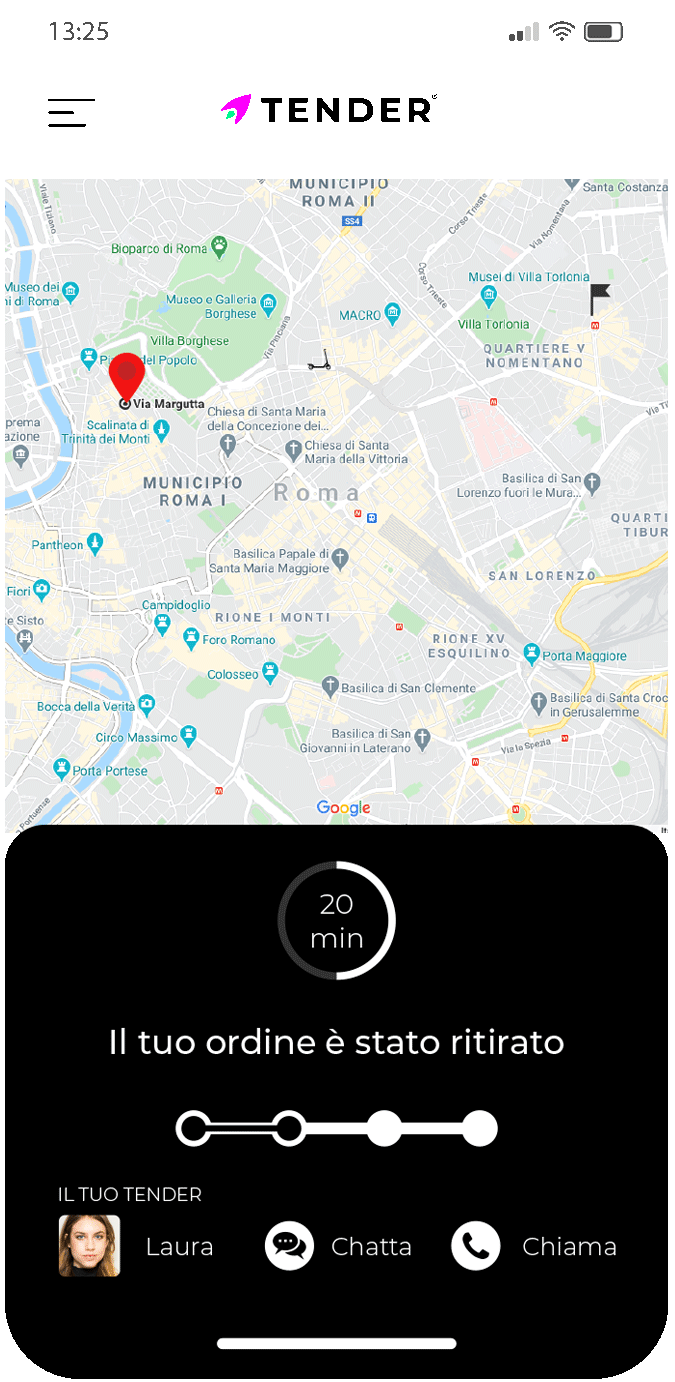 PRECISION DELIVERY
Easily add your pickup and delivery details
SMART NOTIFICATION
Know who is coming to your door and track your Tender in real time
FREEDOM
Your Tender will wait for your final decision!
SUBSCRIPTION PLAN
Our cutting edge, all-in-one tech platform (Api, Dashboard and Mobile App)
SaaS monthly fee (29€)
BLACK
Flat Fee
No distance or time-based
Monthly Instalments
Cancel anytime
€
9,
90
100 DELIVERIES
per month
GET STARTED
PLATINUM
Flat Fee
No distance or time-based
Monthly Instalments
Cancel anytime
€
11,
90
50 DELIVERIES
per month
GET STARTED
SILVER
Flat Fee
No distance or time-based
Monthly Instalments
Cancel anytime
€
12,
90
25 DELIVERIES
per month
GET STARTED
CITIES
44° 29' 37.528"
11° 20' 34.91"
45° 4' 3.918"
7° 40' 56.961"
MILAN
ROME
FLORENCE
40° 50' 9.361"
14° 14' 55.617"
41° 7' 32.823"
16° 51' 43.305"